Wow, so I guess it's been more than a week since I've update. I really do use myspace more than this damn thing. Anyways, since my last update, I came to the stark, abrupt conclusion that I don't want to date anyone right now. I'm not in a place right now where it is a good idea. I'm just going to set up other people to end up hurt. I know me, I know what I want, and I know what I'm capable of. So no more boys.
I went to Kentucky last weekend. Ballz and I helped Lindi move. It was insane. We didn't leave until about 5pm on friday. We spent all day before that loading and unloading shit. Then we all left, Ballz in her truck, and me, lindi, her two cats (satan and flufferz), her snake (felix), and a spider that was nice enough to hitch a ride and land on me halfway down the interstate. It was an interesting ride to say the least. We got turned around in nashville, and once we got in kentucky we drove through fog, flooding rain, small fallen boulders, and i think ballz saw some fires. 7 people died in that storm that night. We got into kentucky at like 2am. ... fast forward through a long weekend of drunken lindi family members, wedding plus the reception and a drinking game ... Sunday ballz and I came back in town. I was here ten seconds before I found out that the new boss at work said that Payton had to leave. I was kinda pissed, dyed my hair and then went to the bar. Was at the bar not ten minutes before shea started drilling me about dustin. That kinda pissed me off. I don't like other ppl in my business that has nothing to do with them. I don't care how long you've been friends. Anyways, other than that sunday was really fun. Ballz and I hung out till after closing. Drank some free beer and a free walk me down.
Monday was the usual shit.. Tuesday was good. I picked Brinton up around 6 and we met justin at my work. The boys loaded payton's cage and then we all headed back to my parents. It was alot easier than I expected thanks to brinton helping. I had to get Payton settled so justin and brinton hung out with my parents.. which still is a little wierd to think about. Once that was all done, Brinton and I headed to the bar. I hung out there for the rest of the night, and actually had a pretty damn good time. I spent all of my money.. but I think it was worth it. It was nice to have a night out at the bar with no drama and all fun. I got home kinda late and couldn't help but to get payton out. I played with him and sat online for a bit. Brinton called right after i fell asleep, so I ended up talking to him for a little bit. Finally got to sleep. Work didn't suck that bad today, but sitting in the dr.'s office for 2.5 hours for fucking refills on my birth control did. I wasn't happy.
oh well.. i think this update was long enough.. but i end with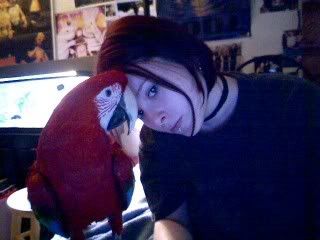 Show media
Loading...